Never gonna fall for
Modern Love walks beside me
Modern Love walks on by

[…]

Don't believe in
Modern love. 
A lot has changed since I was last single. To help me navigate this technologically enhanced dating market I wanted to pair up with another recently separated, similarly fumbling soon-to-be divorcee and reporter. What follows is a edited recounting of our conversations:
Me: So you and I both started online dating around the same time.
My friend: That's right - while we were both in the middle of divorces which I think adds a certain something.
(I laugh)
Me: And we were both a little apprehensive about it.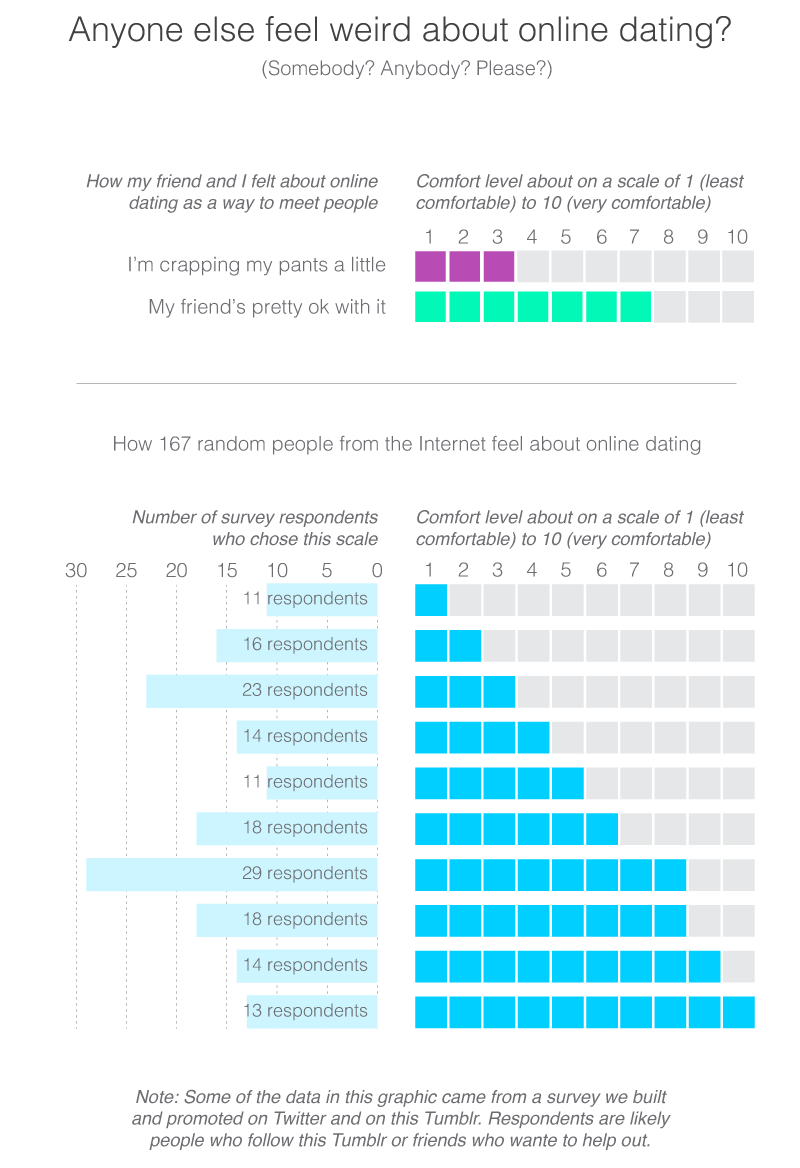 Me: I felt uncomfortable mostly because I always felt like online dating commoditized people and made something so human — affection, love, etc. — into a consumer choice. I've also never actually actively dated. I've always met people IRL — in real life — through other people or through activities and group events and we sorta just figured out that we liked each other by hanging out with a bunch of people. So online dating as an activity and going out there to find someone in a categorical way are a little weird to me. Consumerist, almost. Also there's this tumblr.
Friend: For me, at first thought it was just the idea of dating that freaked me out. It's been five years since I've been on a date. The list of things I would rather do than go on a date includes: wash my hair, scrub the bathtub, even do my taxes.
Me: You'd rather do your taxes? Do you know how complicated this country's tax code is? 
Friend: But I pretty quickly realized that a big part of the freakiness is the online component. A, the choices - so so many! It's like chocolates. You think you'd like an entire roomful of chocolate, but for reals? That's a tummy ache waiting to happen so you have to make choices. But at the same time who wants to have to make a whole room full of choices, even when picking chocolates?  And B, the process of making so many choices strips away a lot of the nice parts of dating (if there are nice parts).
Me: Right, sieving through all the choices just becomes overwhelming.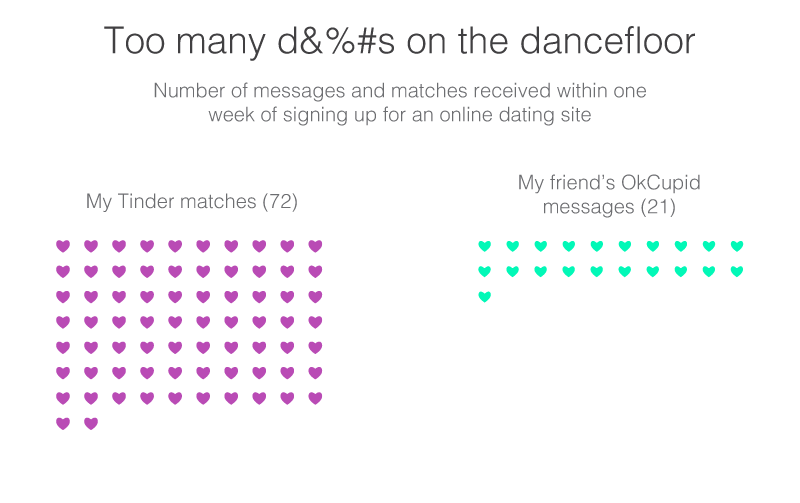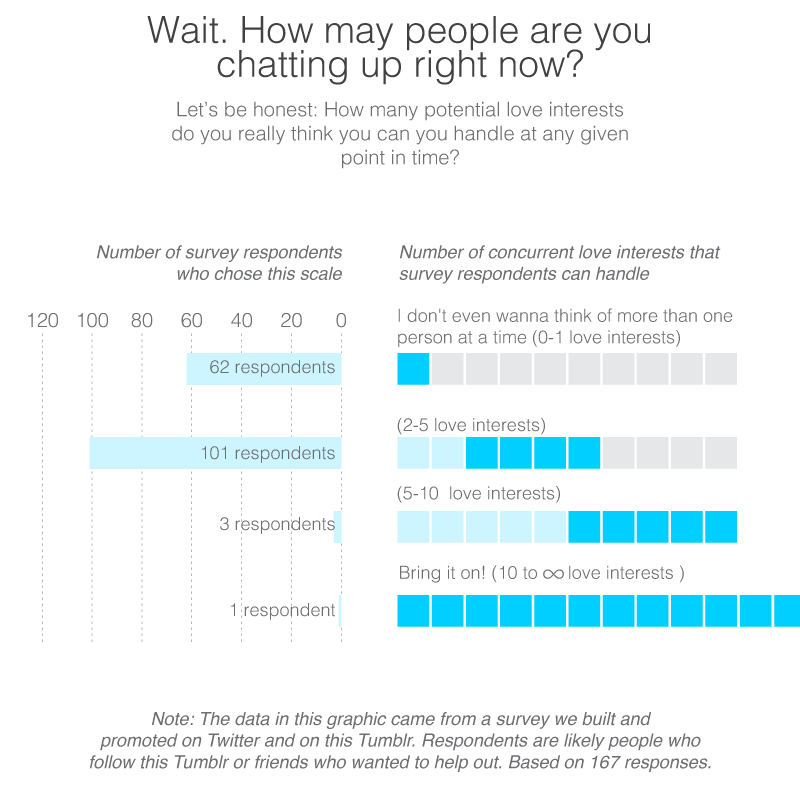 Friend: The overwhelmingness spreads throughout the whole experience like a sneaky little virus. And for me what happens is that I'm already so overwhelmed (OkCupid says 164,972 users are online right now) that by the time I'm immersed in an exchange with a guy, if he hasn't asked me for a cup of coffee by email number three I'm almost done. I do not want to answer another email. It's a sad, sad place to be.
Me: And then all the messages and matches you receive start sounding the same, making it super hard to distinguish between the real deal and just some guy who says "Hey."  It becomes a chore to look through the massive pile of messages and figure out who really is a nice guy and who's just messaging EVERYONE WHO POPS UP IN HIS FEED!  
(My friend takes a break to arrange for a date in Manhattan. Yes, this actually happened.)
Friend: Right - there are so many things to consider - is he tired? Is he crazy? Is that why he just wrote you this potentially questionable and bizarre email (Hi, would you like to go out for cereal?)  Or, is he a totally nice guy, sitting alone with his totally nice cat, with his actually very nice bowl of cereal, who's just as overwhelmed as you are?
Me: We could have a whole nother conversation about the difference between odd vs. creepy (people who filled out the survey did).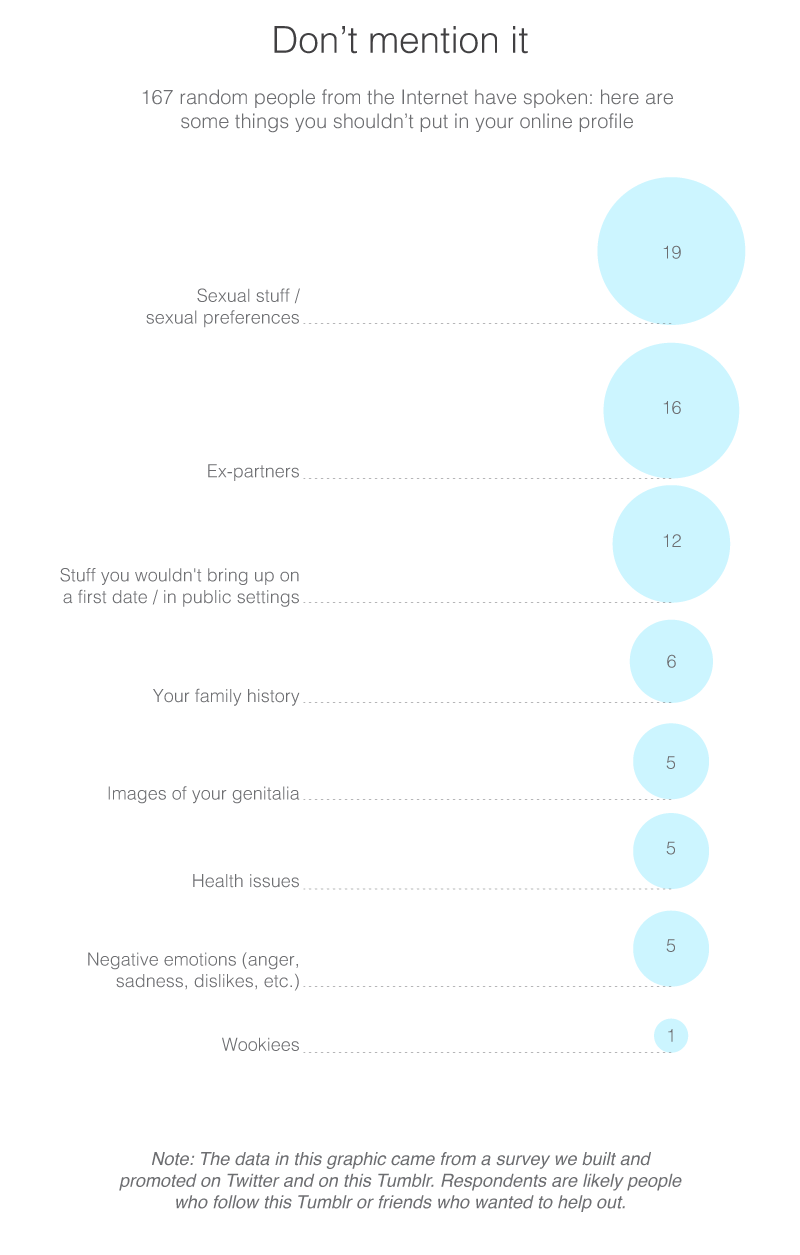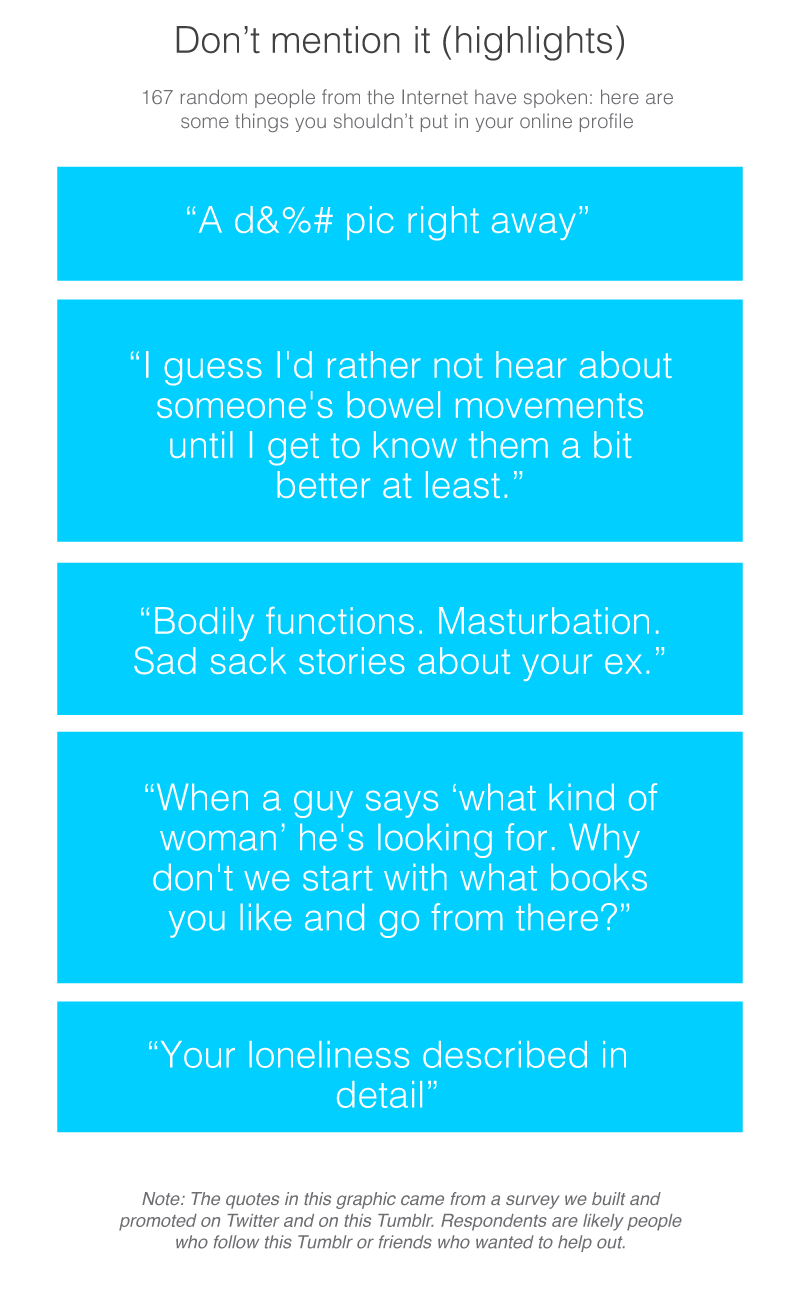 Me: I'm just starting to feel like whole dating thing is a lot of work.
Friend: It is work and I can back that up. I've reported on this before! There's a professor at Columbia, Sheena Iyengar, and this is her thing. She actually studies this! Iyengar is an expert on choice — on how many choices are too many, i.e. how many options will short-circuit consumers' minds and make choosing such a hassle that you don't even want to make a choice.
Me: So there's like a sweet spot for how much choice is too much choice?
Friend: Yes, and although this feels kind of weird, I'm going to quote one of my own stories: 'Sheena Iyengar says when it comes to how many products should be on store shelves there's a magic range of numbers — 15-20.'
Me: And now we are just products on shelves! I had an exchange with my very first online date about this. He likened it to going to a grocery store where you're presented with an endless array of soaps, all of which serve the same function, but you start getting overwhelmed by all the choices you're presented with.
Friend: I'm not starting to get overwhelmed. I am overwhelmed.
Me: But on the other hand, being exposed to a number of people also raises your standards and expectations. So for example, I'm not the biggest drinker and usually bring that up when people suggest going out for a drink. One guy said that we should think about something else to do, which was really thoughtful. If a guy doesn't do that now, it raises a little red flag.

Friend: I know! Like someone else has already climbed the mountain of politeness, can't you too? Are you out of politeness and thoughtfulness shape? Did you sprain your politeness muscle? Is that why you're still single? But, I'm rambling (which is what happens when you date) and the point I want to make here is that even while we're being so thoughtful and careful and desperately trying to assess data there's something a source for an online dating story told me years ago (when I was not single) which has come back to haunt me. Here it is: While we think we know what we want, we often don't. 
Me: Right. It's really not all about whether you like the same music or whether you're an 'outdoorsy' person. You can't really put chemistry down on paper. I've actually been pleasantly — and not so pleasantly— surprised by whom I liked and disliked. I would go to a date expecting to like the person based on e-banter and their profile, and ended up being somewhat horrified by them in real life and vice versa.
Friend: So, I've really enjoyed this chat with you. I just have one question - would you like to go get a drink? But, of course, only on a night that works for you.
(I laugh)
Data: For our data we used my friend's OKCupid as well as my Tinder account for data.