I moved. It was probably the biggest change I've undergone since the breakup.
While we all dread the actual act of packing our belongings into cardboard boxes, leaving one place behind to put together another is quite a transformative experience.
I've moved around since I was 15 and have lived in various countries, each time paring down my belongings to two suit cases (that's the limit for most airlines). In the early years, I was too young to have enough belongings worth shipping around the world and did not have enough disposable income to really amass all that much stuff.
Despite my repeated change of location, however, there seemed to be one constant wherever I moved — Ikea.
Being young and emotionally unattached to my worldly belongings, Ikea became a place I associated with the beginning of a new chapter. I had come to love the upstairs maze. Each faux capsule — a modern bedroom, a rustic kitchen, a Victorian bathroom — represented the possibility of a different home and a different me.
Even if people think all Ikea furniture looks the same, its cheapness, its pervasiveness and uniformity allow you to reuse old pieces and combine them with new ones to make yourself a relatively inexpensive new home each time you move. Pieces of furniture and decorative items become lego blocks that you assemble to craft yourself a comfortable nest. (I would prefer buying furniture elsewhere and have many items I picked up in second-hand stores, but it's still hard to escape the Swedish furniture store, if only to gorge on some mean meatballs).
The process of moving, as measured in Ikea items, therefore begins with a trashing of furniture, the moving of stuff and ends with the assembly of new stuff you might buy.

Source: Ikea, Google Translate
Apartment-related weight-loss
It is liberating to get rid of some stuff. It underlines your ultimate independence from your belongings. But what's more is that you also get rid of some of the things that remind you of an old chapter of your life. For better or for worse, you lift a big weight from your shoulders by trashing some of the plywood that used to crowd your space.
Here's a bunch of the stuff I got rid of: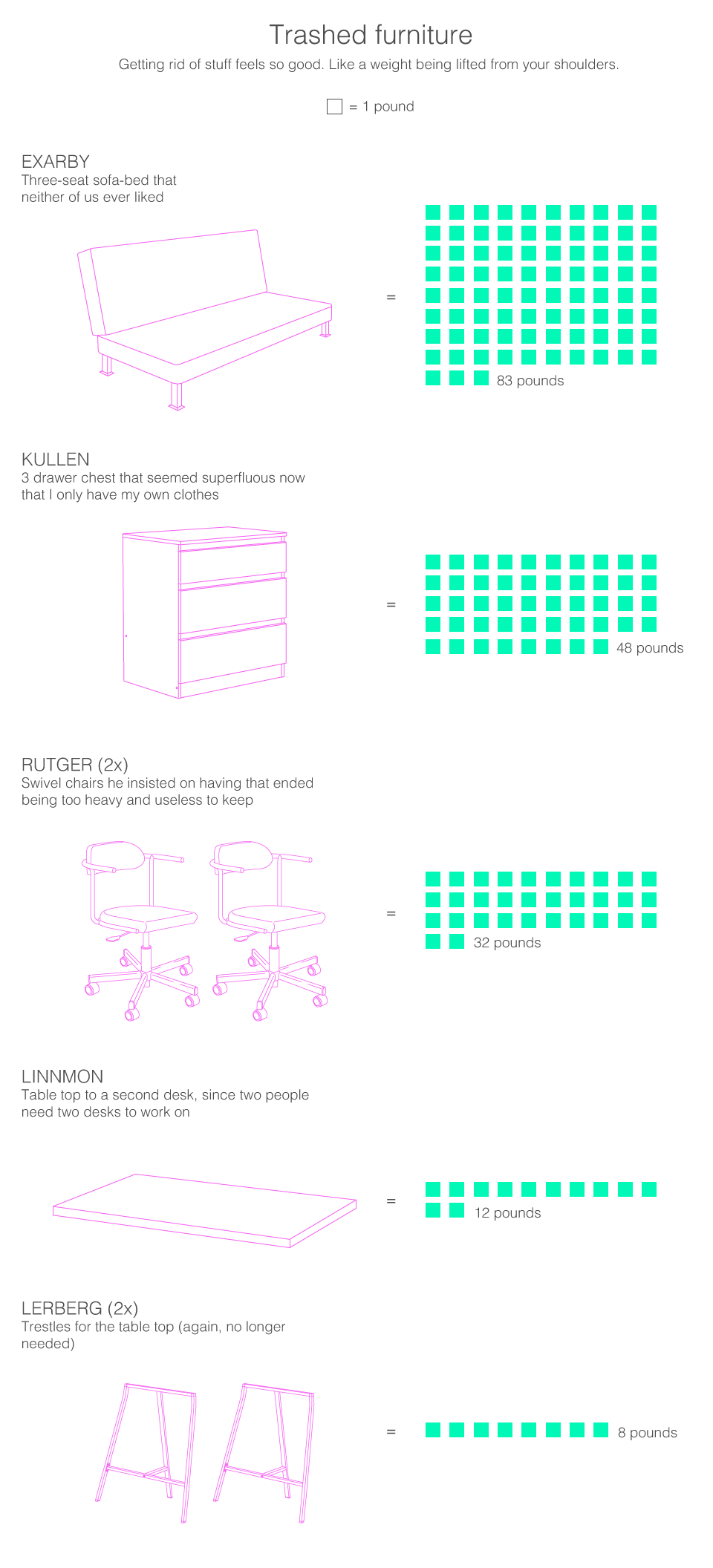 Source: Ikea
Moving boxes around
In total, I moved 6 pieces of big furniture, 5 chairs, one seat, 22 boxes, 4 suitcases and a few loose things.
The Ikea pieces I kept were relatively utilitarian, probably a sign that I really craved a new beginning:

Source: Ikea
The Ikea effect
Building a new home also entails building new furniture. While some might see it as a chore, I really revel in the building of furniture and in the decorating of a new space. It's a process that I've always enjoyed: turning a bare apartment into a hospitable sanctuary that offers your own version of comfort after a long day at work.
And apparently I'm not alone. According to a study by Harvard University's Business School there's something called the Ikea effect. People seem to have "an increased valuation […] for self-assembled products compared to objectively similar products which they did not assemble," according to the researchers.
And that's not just something we seem to appreciate when assembling furniture:
When instant cake mixes were introduced in the 1950's as part of a broader trend to simplify the life of the American housewife by minimizing manual labor, housewives were initially resistant: The mixes made cooking too easy, making their labor and skill seem undervalued. As a result, manufacturers changed the recipe to require adding an egg; while there are likely several reasons why this change led to greater subsequent adoption, infusing the task with labor appeared to be a crucial ingredient (Shapiro 2004). Similarly, Build-a-Bear offers people the "opportunity" to construct their own teddy bears, charging customers a premium even as they foist assembly costs onto them, while farmers offer "haycations," in which consumers must harvest the food they eat during their stay on a farm.
It did fill me with pride when I figured out how to use the power drill to put an anchor into my kitchen wall (hooray!):
And in trying to enumerate just how much love I poured into constructing and assembling a new home, I counted all the screws I screwed into pieces of wood and into my wall: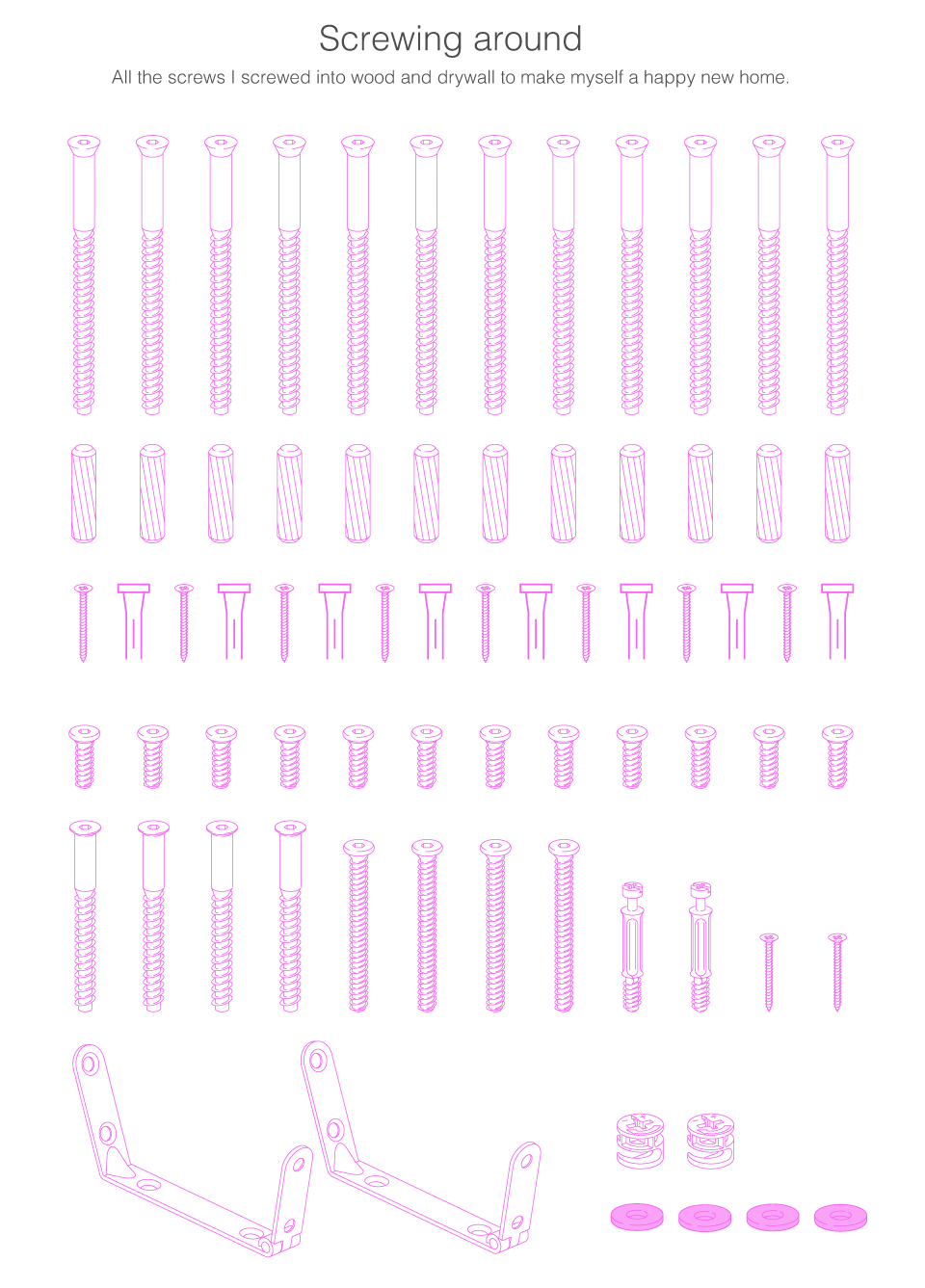 To a new year and a new home. 
(And to my best friend who lives in the same building, has a car and enjoys the upstairs maze at Ikea as much as I do).