Here's a brutal metaphor for a breakup: It's some kind of mutilation. First it feels like someone rips your heart out of your chest. Then as you're trying to grasp what just happened, still in shock about the loss of that pumping machine in your body, someone else chops off one arm, then another. Then go your legs. In the end you look like the Black Knight in Monty Python's The Holy Grail:
Basically, it's not just that you feel an emotional void after you 'uncouple' from someone. But so many parts of your identity — your mutual circle of friends, your common living space, your ex-partner's extended family — are suddenly cut off from you. You look around and half your limbs are missing.
But then over the coming months you start to rebuild yourself. You take the scraps that are left of you and you stitch yourself back together, one piece at a time. It's a way of establishing a new self with entirely new components as well as old ones you forgot you had.
There's that part of you that is playing a sport again, something you had neglected in favor of lounging around at home and watching Netflix with your spouse. There's that part of you that is back drawing stuff or banging on that guitar — I know at least three women who have made a bunch of breakup art in recent months. Then there's the social you who is out at rooftop parties, barbeques and bar events that you had previously been too tired to attend.
There's this new and old you, sewn together haphazardly with bibs and bobs you found lying around. But the truly great thing is that…
IT'S ALIVE!

Yes! Like Frankenstein's monster, you have risen from the dead… or from many formerly dead body parts. You're still kind of limping, need to tighten a few seams here and there, and might even wanna straighten some of those joints. But you're back and alive and ready to learn how to walk again.
That's sort of where I landed as springtime came around and then something even stranger happened: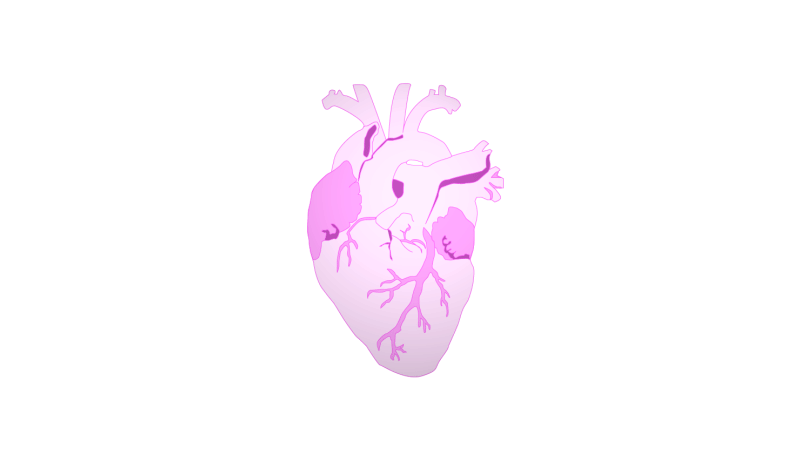 I had been going on dates every once in a while. Usually, they'd go like so: it starts out with some interesting banter on your phone, then maybe a meeting. The first encounter mostly feels like work, sometimes it gets easier and most often things trickle on and then end in one or both of you losing interest.
But something happened. There was some kind of spark with someone.
(Below is an interactive graphic. To make something happen, click the grey button!)
(To watch this fullscreen go here)
Of course, the number of text message exchanges — in this case 1,146 in the first four weeks alone, an average of 40.9 per day — doesn't mean much. But perhaps it's a nice indication of when there are real sparks. Our connections with one another in a busy city, especially one like New York City, can easily fall to pieces. There are always a 8.2 million other people — basically the entire population of New York City — you could be seeing. There are so many things you could be doing. So much work to be done.
But sometimes, when something feels right between two people, they just wanna talk to each other all the time. Like ALL. THE. TIME.
Something might come out of that. Other times something gets in the way and the whole thing implodes. To quote a friend of mine: "All good things end." It's a joke. But yeah, she was on to something.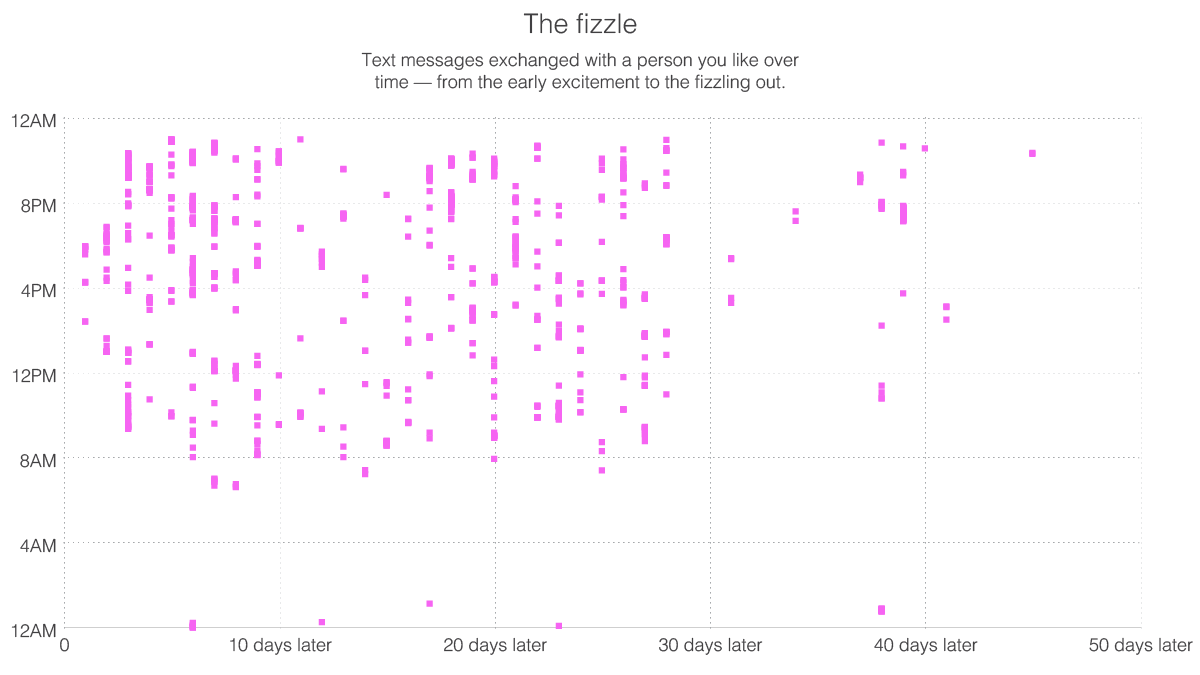 As you can see, things didn't really work out in the end. We both got a little too excited, then a little scared and then life and a ton of travel got in the way. But that is besides the point. An intense and lovely month with someone can remind you that you can still feel. That you're not just dead inside. I believe that's a reason to celebrate. Let summertime come!
Note: The data for this graphic was downloaded with iPhone Data Recovery. The sparks were made with canvas, a lovely JavaScript library.